The Write Stuff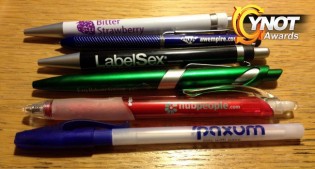 AMSTERDAM – Oh, how the mighty have fallen.
The disposable ballpoint pen, once the evolutionary titan of writing instruments, has been supplanted in the Digital Age by keyboards and touch screens. In one arena, though, the ballpoint continues to reign supreme: trade show swag. Pens are convenient. They're infinitely portable. They're imprintable.
At Webmaster Access, the passé gadget also proved it could still be cool.
The selection of pens the YNOT Europe staff collected is depicted in the image at left. Notice the bold lines, the brilliant colors, the high-tech materials.
Notice the corporate logos. Every time someone pulled out a pen to jot a note during the show — admittedly not an every-minute occurrence, the profusion of smartphones and tablets being what it is — some company got a brief but impressive plug.
In the interest of nostalgia and as a prelude to the third-annual YNOT Awards — winners of which will be announced Sept. 25 — YNOT organized the Write Stuff Awards 2013.
The winner of the impromptu inaugural award: HubPeople.com.
"This pen has a nice grip and simply feels solid when you write with it," one judge noted.
"The color stands out from the crowd, and it's well designed for clipping to a pocket or a piece of paper, assuming you have either," another said.
A third remarked "the ink doesn't skip or smear, even on a bar napkin. This is a reliable writing instrument."
The third annual YNOT Awards, the online adult industry's original peer-determined awards, will honor winners in 30 categories. More than 100 individuals and companies, but no ballpoint pens, were nominated for the awards in 2013. Winners will be celebrated Sept. 25 during an elegant dinner in Budapest during The European Summit.
Comments are closed.