Beyond Flesh: The Future of Porn Revealed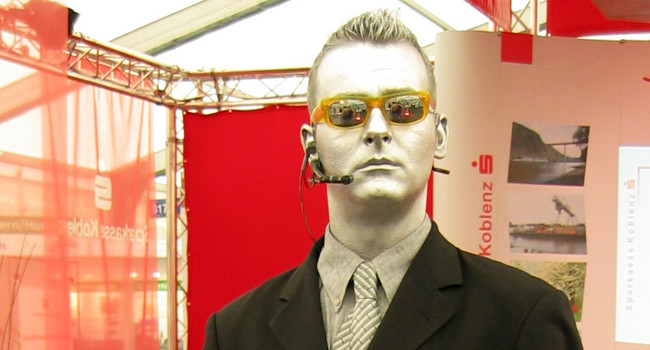 By Ben Suroeste
LONDON – Much like another P-word — "pimping" — prognostication ain't easy.
Whether what you're trying to predict is the winner of an upcoming football game or the precise date the Rapture will commence (Feb. 13, 2017, for the record), the immense number of variables involved renders even the best predictive reasoning little more than sophisticated guesswork.
But that's you I'm talking about. For me it's different, because I have a secret weapon, a special advantage unavailable even to such famed seers as Michel de Nostredame, the Amazing Kreskin and the famously infallible Harold Camping.
No, it's not some silly crystal ball, a pile of special Chinese tea leaves or a random set of animal bones I cast into a circle drawn in the dirt while reciting cryptic lines found in the Necronomicon. It's my own custom-tailored, technologically advanced and chemically enhanced Super Brain.
I'd disclose to you the exact means by which I enhanced my normal human brain into its current high-functioning Super Brain form, except I'm worried you would use it for your own personal gain rather than to improve the lives of others, as I do. Plus, part of the enhancement process involved huffing a carefully selected series of combustible accelerants off a special microfiber rag, so there's actually quite a bit I don't clearly recall about the rest of the process.
At any rate, this post isn't really about my Super Brain, but using it to make life easier, better and more profitable for entrepreneurs in the adult entertainment industry.
I'm going to do this by telling you the future of porn — the new "killer app" that will send your profits through the roof. Important side note: Be sure to set aside at least some of said profits to pay for roof repairs.
I can sum up the future of porn in one word: animatronics.
That's right: Not too long from now, porn performers will be replaced by robotic whores and mechanical studs, motor-driven literal "fuck puppets" which can be programmed and/or remotely controlled in real-time to perform the most gymnastic sex acts imaginable, all without any risk to human life or limb (or orifice).
I know what you're thinking: Why not just use CGI to create 3D virtual porn stars and avoid the expense and complication of building complex robotic porn stars, then filming meticulously choreographed porn scenes filled with sexbots?
Well, quite frankly, I don't have the time, desire or inhalable adhesives handy to get into all the reasons why purely virtual porn will never work out as a consumer product, so I'm going to have to just ask you to trust me and my Super Brain on this one. The short explanation is 3D modeling is harder and more expensive than people think and, more importantly, 3D virtual porn simply wasn't one of the visions I experienced during my most recent spirit voyage, another part of the highly reliable technique I use to predict the future.
Just think of all the advantages presented by robotic porn stars. First and foremost, they can't contract or transmit STDs, so any studio using porn bots can feel completely confident, even downright smug, in telling AIDS Healthcare Foundation President Michael Weinstein to go fuck himself. (I mean fuck himself safely, of course.)
Second, pornbots will never show up to the set late or hung over or in desperate need of makeup or with some fucking moronic asshole of a boyfriend in tow who can't seem to get it through his thick monkey-skull it makes zero sense for a childishly jealous prick like him to date someone who fucks other guys for a living.
Third, if it works for dinosaurs, it will work for porn. That's just common sense.
Fourth, there's no such thing as erectile dysfunction with robots. Just think of the savings on Viagra, Cialis and last-resort stunt cocks. Hell, if you want, your male porn bots' erections can be permanent — without the need to call a doctor after four hours.
Of course, once the incredible future of animatronic porn is upon us, we will need to take certain measures to make sure our porn bots don't turn on us like they did on Will Smith in the horrible movie they made out of that one Isaac Asimov book, or bore us to fucking death like the Haley Joel Osment-lookalike bot Steven Spielberg had made for Harry and The Hendersons (or maybe it was Cape Fear).
Speaking of Asimov, the best way to make sure our porn bots don't do bad things is to program them so as to adhere to Asimov's Three Laws of Robotics. Those three laws are, of course:
"A robot may not harm a human being or, through inaction, allow a human being to come to harm" — you know, unless the robot is a porn bot making a video for Kink.com and the human being in question is clearly into that sort of thing.
"A robot must obey orders given it by human beings, except where such orders would conflict with the First Law" — or expose said humans to criminal and/or civil liability flowing from the presence of the robot-staffed meth lab in their basement.
No running by the pool.
So, there you have it folks: the future of porn. Equal parts exotic, high tech and practical, a world in which "teens" need never age into being "MILFs," abs need never go flabby and producers need never share their hard-earned drugs with performing talent.
It will be, in short, a Porn Utopia, brought to you by faithful, reliable, agreeable porn bots, not one of which will ever date Charlie Sheen.
That's it for today's predictions from my patented Super Brain. Next time, we'll look at impending investment opportunities in the world's next fast-growing marketplace for adult entertainment: beautiful, enchanting and socially-progressive Yemen!
Comments are closed.