UK 'Porn Subsidies' Help Reduce Unemployment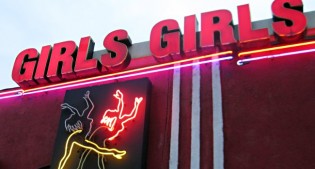 LONDON – The UK government is paying subsidies to massage parlors, porn film producers and strip clubs that hire unemployed youth ages 18-24 who have been on Jobcentre Plus unemployment relief for at least six months. Predictably, conservative members of Parliament are outraged.
According to the UK's Office for National Statistics, 233 million Brits of working age are without jobs, representing a jobless rate of 7.2 percent. During the final three months of 2013, the jobless rate among 16- to 24-year-olds fell to its lowest level since 2011.
Apparently, the so-called "porn subsidies" are having a positive effect. Still, more Brits than Americans are unemployed per capita: The jobless rate in the U.S. stood at 6.7 percent in January.
The UK Department for Work and Pensions' subsidies program is fairly straightforward and completely above-board: Adult entertainment employers are eligible to receive up to £2,275 (about U.S. $3,800) in employee subsidies for each eligible recruit they hire full-time. Part-time hires are worth up to £1,137.50 (U.S. $1,900) each.
At that rate, none of the employers or employees will get rich, but every penny counts in a sluggish economy.
Not just any job qualifies for reimbursement. The DWP took great care to specify which types of jobs qualify and which don't.
"This government took action to ensure jobs in the adult industry which might exploit jobseekers were not advertised through Jobcentre Plus," a DWP spokesperson explained to the Huffington Post. "We also ensured that to be eligible for our schemes jobs must not exploit vulnerable jobseekers."
Among the restrictions: Strip clubs cannot apply the subsides to actual strippers. They can, however, claim the funds for hiring bar staff, cleaners, bouncers and anyone else who keeps their clothes on and doesn't lap-dance.
The DWP rules also apply to massage parlors: Anyone who actually does the
"dirty work" isn't eligible for government support. In the same vein, adult models, webcam girls and boys, and porn performers aren't eligible, but directors, producers and sound engineers are.
Mindful of the public stigma around adult industry work, the DWP told the [i]Sunday Times[/i] newspaper its Jobcentre Plus counselors had been "guided" to talk about adult industry opportunities only when asked about them.
None of the precautions mollify the politicians living on the public purse.
"I do not think parents would welcome this government-sponsored recruitment into the sex industry," said Labour MP Fiona Mactaggart, who wants the DWP "porn subsidies" discontinued. "These are entry-level jobs into a world of gross exploitation and violence."
Given that the basic pay for Mactaggart and other MPs starts at £66,396 each (about U.S. $110,181) plus expenses to "cover the costs of running an office, employing staff, having somewhere to live in London and in their constituency, and traveling between Parliament and their constituency," (according to Parliament.uk), her criticism of the work program for long-unemployed youth seems a bit specious, if not downright mean.
Image: Rick Hall