Vanilla DeVille Invests in Pin-Digital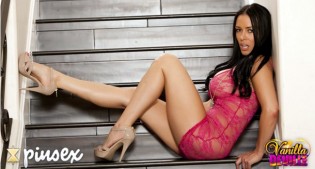 BARCELONA – Performer Vanilla DeVille has joined Pin-Digital as an investor, the company announced Monday. Pin-Digital is the corporate parent of adult social networks Pinsex.com and PinGay.com.
According to a company spokesperson, DeVille will take an active public role in promoting the heterosexual product Pinsex by becoming the website's first "flagship porn star." In addition, she will advise the company about strategies for connecting with fans based on her 14-year career in the adult industry.
Followed by more than 100,000 people on Twitter, DeVille is regarded as one of the industry's most popular MILF performers. A former Miss Nude Internet, she has modeled for Playboy and Penthouse magazines in addition to starring in movies produced by Digital Sin, Hard Candy, Naughty America, Brazzers, Reality Kings, Wicked Pictures and Girlfriends Films.
She performs weekly live shows on her membership website, VanillaDeVille.com, and has received numerous adult industry award nominations for both her performances and her website.
"When I first saw Pinsex, I was totally blown away by it," said DeVille, who debuted before mainstream film audiences in 2009 with a role in the Paramount movie Middle Men. "Not only does it provide a unique platform for porn stars like myself to interact directly with our fans, but it is also breaking the status quo, giving adult consumers exactly what they want in a social environment. I am very proud to join Pinsex and to be part of the leading porn social network."
Pin-Digital founder and Chief Executive Officer Christian Thorn indicated brushing shoulders with celebrities is only one of the reasons end-users join Pinsex and PinGay. Both sites encourage members not only to share favorite images and videos, but also to interact with one another and the producers, directors and performers who maintain presences on the network.
"Pinsex is continually improving its social connection between porn stars and their fans via our celebrity media partnerships with established and rising stars," Thorn said. "We are extremely pleased to have a huge star like Vanilla DeVille on board, allowing users direct access to communication with her so they can discover, collect and share their adult content.
"No other platform can connect this avid and growing community like Pinsex," he added. "With Pinsex and Vanilla, we are leading the charge in a new era of innovation in adult entertainment."
Pin-Digital also is making waves in the mainstream press. Most recently, TechCrunch posted an article about the company's success in gaining $800,000 in investment funding.
Launched 12 months ago, Pinsex has played a leading role in making porn social. The website claims more than 150,000 daily visitors and more than 900,000 daily ad impressions. PinGay, launched in July, quickly is catching up, according to Product Manager Giles Hirst.
Both pinboards offer free accounts to surfers and adult businesses.
Pin-Digital plans to roll out similar websites in additional verticals before the end of 2013.
About the Author

Marty O'Brien
Raised in the Appalachian Mountains of Kentucky, Marty O'Brien was the first of the O'Brien clan to obtain a college degree. A former sports journalist, O'Brien got a peek at the inner workings of the adult entertainment industry while on an assignment to cover the Los Angeles Lakers. He joined the YNOT editorial team in late 2010 and now specializes in technology , business news and ogling starlets.
Related Posts
BARCELONA, Spain – Online advertising network ExoClick has launched "The Additive," a fortnightly, five-minute video show. Presented by Head of Communication Giles Hirst, the show […]

BARCELONA – A Spanish tech company specializing in mainstream brand and copyright protection has stepped into the adult arena. Red Points, which debuted in 2012, […]

SCHINDELLEGI, Switzerland – InterMaxGroup AG, better known as 69Cash, has introduced a pay-per-sale option for its affiliates. According to a company spokesperson, the program is […]

LIMASSOL, Cyprus – Not every arrest at the U.S. Mexico border is a bad thing, as EuroRevenue demonstrates with its newest website. For agents, their […]